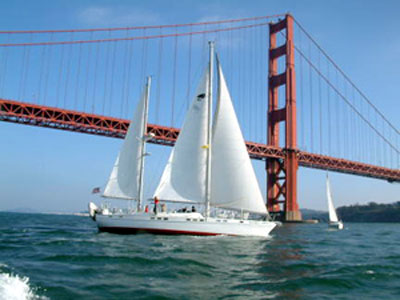 Come Aboard the luxury sailing yacht "Glory Days" and experience our exceptional service as we sail the San Francisco Bay! . Enjoy romantic sunsets under the Golden Gate Bridge, the thrill of gliding past historic Alcatraz, Sausalito and the Breath-taking San Francisco skyline.
Help hoist the sails and take a turn at the helm, or sit back, relax and enjoy the sights while out professional staff crews the yacht. This 51-foot Morgan ketch is comfortable, exciting and fun! A US Coast Guard certified passenger vessel for up to 42 passengers.
Perfect for Corporate events, private sailing charters, Bay tours, memorials at Sea (ash scatterings) weddings, team building activities, BBQs on Angel Island, sunset and full moon sails.
We are happy to announce we are OPEN for private events with limited capacity and COVID-19 safety precautions in place (wearing masks, social distancing, strick cleaning procedures etc.) We are happy to provide a quote for your family and friends. Sailing is a great outdoor activity. Come join us in the fresh air and sunshine!
Ticketed Cruises