The professional sailors and crew of the sailing charter yacht "Glory Days" Come and meet the best captain and friendly crew sailing San Francisco. Captain Pam Power is skilled and fun! Captain Pam has been sailing the San Francisco Bay for over 25 years. Let us take you sailing and show you the city of San Francisco and the Golden Gate from a different view.
The Captain
"I enjoy the satisfaction of planning each sailing event to make it a special day for every client." "We love to share sailing the San Francisco Bay with our guests" "We treat our guests the way we would want to be treated if we were the guests"
Pam Power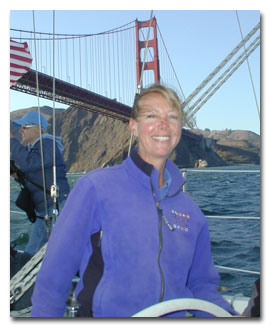 Pamela Power learned to sail small boats as a child at her grandparents' cabin on Pelican Lake in Minnesota. In 1989 she moved to the Bay Area and began sailing larger boats on the San Francisco Bay and the California Coast. In 1993 she sailed out through the Golden Gate Bridge on a four year sailing adventure, cruising from Northern California to Mexico, Costa Rica through the Panama Canal. She explored the historic Spanish Main and Columbia, as well as all the Windward, Leeward and ABC Islands in the sunny Caribbean. In 1997 Pam returned to live in Sausalito, working as Port Captain for a large sailing charter company in San Francisco. After a year long search for the perfect charter boat Pam found "Glory Days" in Panama City, Florida. In early 1999 she brought "Glory Days" to the Bay area and established Bay Breeze Charters.
Pam graduated from Arizona State University with a liberal arts degree in Recreation Administration. She holds a 100 ton Masters license with sail endorsement. The day charter business allows her to combine her expertise in sailing and event planning and recreation management background to provide guests with an exceptional charter experience.
"I am truly fortunate to get to share my love of sailing, the beautiful San Francisco Bay and have fun with nice people everyday."
Pam is a PADI Dive Master and you can find her riding her horse "Jazz" or hiking with border collie "Glory" (named after the boat) when she is not sailing the San Francisco Bay.
First Officer
Our Crew is dedicated to ensuring that your cruise aboard "Glory Days" is a joyful and positive experience in the day sailors' paradise of San Francisco Bay.